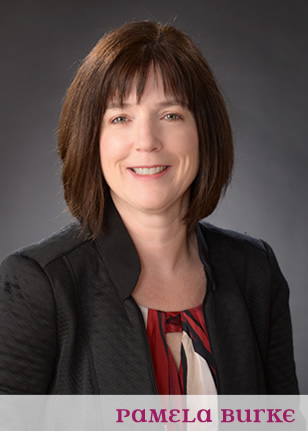 Pam has over 25 years of experience working with businesses in both Accounting and Operations roles, with her main area of focus with Hospitality, Service and Education organizations. Pam graduated from Boston University's School of Management with a degree in Business Administration with a concentration in accounting.
After leaving Boston University, for 9 years Pam was the General Manager and Controller of a full service 120 room hotel with a restaurant, lounge and function space on the North Shore of Boston.  During this time, she gained not only extensive experience in business operations and team development, but she also was involved with debt restructuring, contract negotiations, lender meetings, and ultimately the sale and transition of the business in 1998. 
In 2007, after staying home with her four children, Pam returned to work at eCratchit a leading provider of outsourced accounting. In this role, while managing company financial records using QuickBooks, she continued to learn more about many different business models and operations, while keeping a focus on Service and Education companies. Since 2007, Pam has served as a Board Member for Meeting House Montessori School in Braintree and has supported this school since 1996. 
In March of 2016, Pam decided it was time to form her own company – DowneyBurke. She continues to work with companies and their CPA firms to provide exceptional accounting support and controller level services using both QuickBooks and now QuickBooks Online. She enjoys bringing new technology and ideas to clients in order to streamline the accounting process and make business accounting more relevant for business decisions.